In a tweet shared on May 9, President Nayib Bukele said that the country continues to "bottom-fish" Bitcoin, buying another 500 Bitcoin. This is El Salvador's largest digital currency purchase since the country started adding the digital currency to its balance sheet in September 2021 – around the same time it recognized Bitcoin as legal tender.
Over the past 24 hours, Bitcoin has dropped more than 8% and lost almost 55% of its value from its November all-time high. According to the president, El Salvador bought Bitcoin at an average price of 30,744 USD. According to Bloomberg data, the country is holding a total of 2,301 Bitcoins, or $71.7 million at current prices.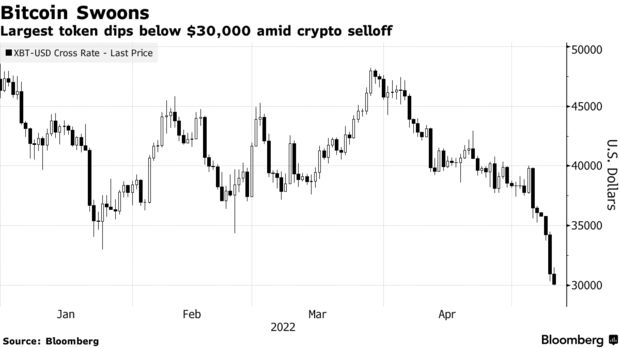 Bitcoin falls below the $30,000 mark.
This is the closest "bottom-fishing" in the continuous buying wave when the price dropped in the past 9 months of the South American country. President Bukele bought into the digital currency when the price plummeted, at a time when he "bet" his political career to experiment with using Bitcoin as a payment method for the whole country.
Mr. Bukele's decision caused many to express skepticism. For months, the IMF has criticized El Salvador's Bitcoin experiment. In January, the organization advised El Salvador to phase out the use of Bitcoin as a fiat currency.
The IMF's directors emphasized that the use of Bitcoin carries significant risks to financial stability and consumer protection, as well as the potential for potential indebtedness. In addition, they also urged the South American country to eliminate the use of Bitcoin as legal currency.
Earlier, several IMF directors expressed concern about the risks associated with the issuance of Bitcoin-backed bonds – this is a plan to raise $1 billion through "Bitcoin BondsBukele's bond issuance, however, was postponed in March "due to unfavorable market conditions", according to Finance Minister Alejandro Zelaya.
In its plan to use Bitcoin as fiat currency, El Salvador also released a digital wallet called Chivo, which offers free transactions and allows for fast cross-border payments. For a country where 70% of its people do not have access to traditional financial services, Chivo is a convenient means of transaction for them.
Regarding the Chivo wallet, the IMF directors agreed that the tool could facilitate digital payment facilities, thereby helping to "promote access to financial services" even though "needs regulation and close supervision". Many El Salvadorans have spoken out about cases of information theft, including a case where hackers used their IDs to open Chivo wallets to get 30 USD of free Bitcoin provided by the government.
Since the beginning of 2021, El Salvador has been working to get a loan of $1.3 billion from the IMF. The country will have to look for other means of support besides Bitcoin to strengthen its finances. The IMF predicts that, with current policies, El Salvador's public debt will grow to 96% of GDP by 2026 and leave the country in an "unsettled future".
Refer to CNBC; Bloomberg
https://cafef.vn/bitcoin-mat-55-gia-tri-so-voi-dinh-el-salvador-lai-nhanh-tay-chi-hon-15-ty-do-de-bat-day- 20220510111718141.chn
https://cafef.vn/bitcoin-mat-55-gia-tri-so-voi-dinh-el-salvador-lai-nhanh-tay-chi-hon-15-ty-do-de-bat-day- 20220510111718141.chn?